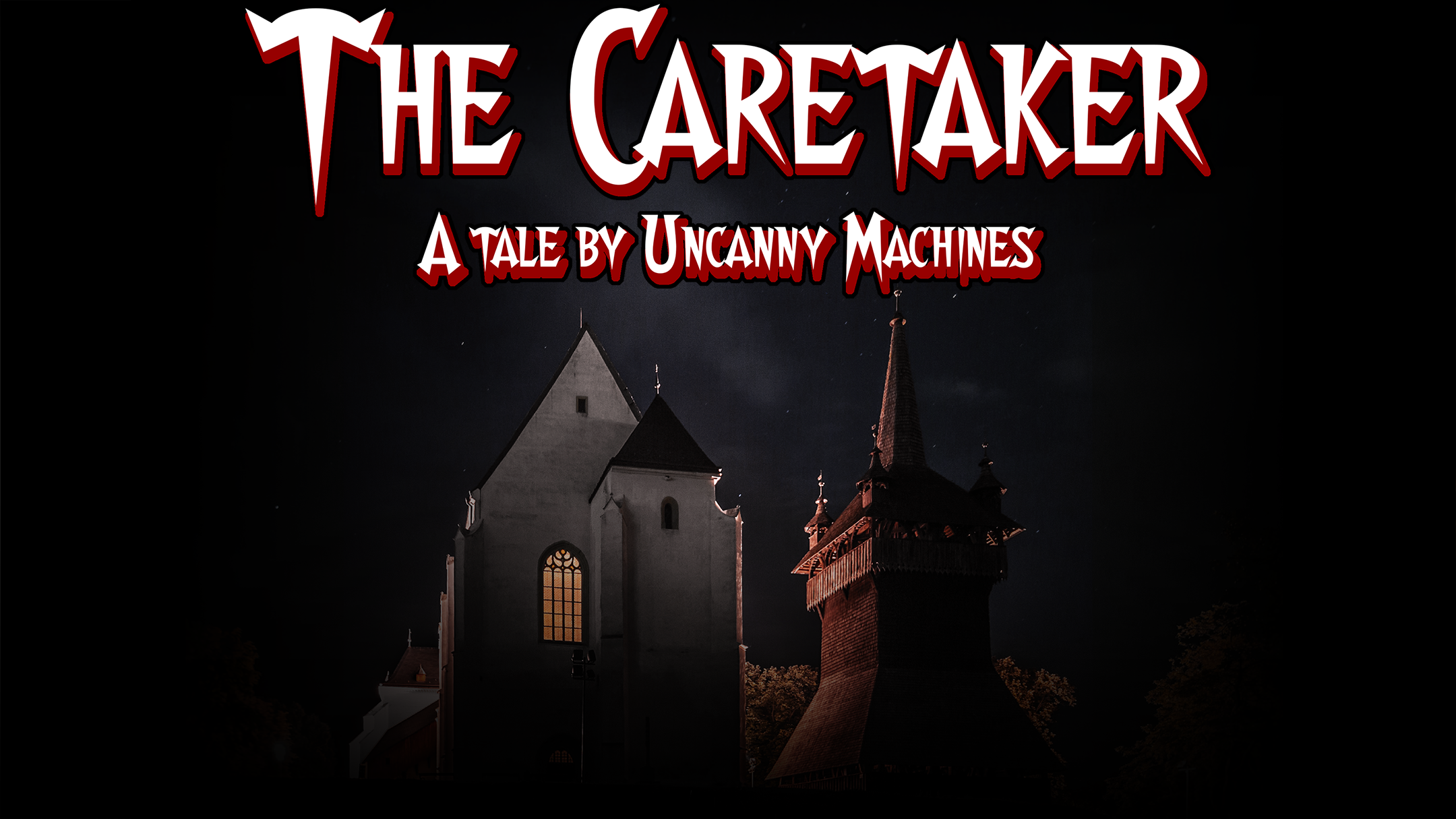 The Caretaker
A short, unconventional Christmas tale. You are the caretaker for one of the most exclusive lodgings around, with some of the strangest guests. Check in on a business-savy alien, an architectural obsessed vampire and more as you listen to their stories and try to help them, however you can.
This game was made using INK, and should run in most browsers. The game is entirely text-based. Please contact me if you encounter any bugs or have any troubles getting the game to run.
If you dig this game and want to see more, please consider donating either through itch.io (preferred!) or https://ko-fi.com/uncannymachines. Thanks!
Background image is a modification of a photo by Andras Kovacs from UnSplash. Logo font is Walshes by Typodermic Fonts.

| | |
| --- | --- |
| Status | Released |
| Platforms | HTML5 |
| Rating | |
| Author | Uncanny Machines |
| Genre | Interactive Fiction, Adventure |
| Tags | Christmas, Horror, Monsters, Narrative, Point & Click, Spooky, Text based, Vampire, wholesome |
| Average session | About a half-hour |
| Languages | English |
| Inputs | Mouse, Touchscreen |
Comments
Log in with itch.io to leave a comment.
This was one of the best games I have played! I love the concept and how you introduced the characters!
That is an amazing compliment! Thank you so much, I'm glad you enjoyed it. I hoped to do more with the characters, but also really wanted to publish something (I'm rubbish for actually finishing projects), so I might just have to revisit them some time! Thanks again and hope you have an awesome holiday season.
Hey! I normally like text based adventures, but they always have trouble with obscure ways to complete puzzles, and the stories tend to be messy and nonsensical. You've showed them all what a great text game can be. I'm serious when I say this is probably the best one I've played, hands-down. The mystery of trying to figure out what each tenant is is intriguing, and the simple interaction makes this very fun. I found it unusual that you could change the description of things based on if you thought things were "pleasant" or "disturbing" etc...why did you make that a selection? I was sad I couldn't see both choice results sometimes, but it wasn't bad.
The final twist about what you were, too, was incredibly well done. I really liked helping al the tenants of the little house and I really hope to see more from you in the future! Really, really fantastic work!
Hey there! Wow that is a really humbling comment, thank you so much! I'm over the moon that you had fun with it.
Doing the changes in perception was because I felt it gave the player a bit more control over the protagonist. I wanted to play with the idea that the player-as-protagonist isn't just in charge of how the character acts, but also how they see the world. Basically, a more "co-author" approach. I'm glad you noticed it, and thanks for the feedback about wanting to see both results. That helps me think about how to do this kind of thing in the future.
Hope you have a great day and thank you so much for playing.
Ooh I didn't see your reply until just now. Thank you for replying! I really am happy you're still growing and learning as a game developer and I will keep watching you for more great work! Best of luck in all you do!
Hi there, I am DragonExplosion and I am a youtuber. I hope tht you leave a like and subscribe at my channel.
I have played many text-based games and I have to say that this text-based game has one of the best storylines I have played so far. It would be better if there were sound effects, visuals and music for sure. In fact, you can even turn this into an actual game where the player walks around the floors and buildings to talk to these people. I would be very excited to play a game like that with such an interesting storyline.
Thank you for reading my comment :).
Wow thank you so much for your feedback and compliment! I'm glad you enjoyed the game.
Your points about fleshing it out are great - I had actually considered adding a few more elements to it like sound and graphics, but also just wanted it to be an exercise for me to get to grips with using INK. I'll consider integrating it with Unity and adding some more interactions/elements next time :) Thanks again!